It's been some time we have write anything here. Now the beginning of the season 2019 is close and we promise to update news and events from the river regularly during the summer! The long winter has gone and spring arrived to Tornio river valley sooner than usual. Ice melted from the River Tornio in the late April, which is very early. Usually ice departure happens during early or mid May. Sonar, which calculates migrating salmon in the river is already on and some 400 fresh running salmon have passed the Kattilakoski until this date! The run has started quickly and at the moment it is looking to be interesting start of the season with many running fish in the Pello region yet. You can follow salmon migration here: Natural resources Institute (Luke) following the migration of salmon are predicting good number of fish into the River Tornio this year. After two slower seasons amount of fish should get back to 60 000 or more. We are eager to see, if it happens!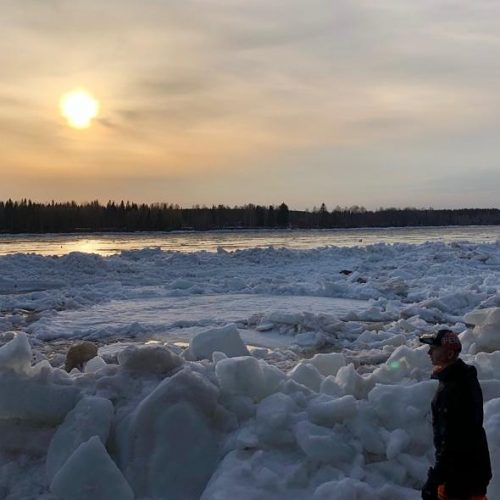 Winter was a bit shorter than usual and the snow amount in Pello and also upper Lapland in Finnish side was less than we are used to. Water level has been lower than often during May, but luckily after early spring, the weathers in May have been very cold and rainy and water level of the river has slowly rise to pretty normal level. There were also very much snow in the headwaters of the River Tornio in Swedish side and there are still quite much snow in the Swedish mountains, which will probably affect the water level during the June. At the moment Finnish Environment Institute (SYKE) is predicting that the season will begin (on 1st of June) with little lower water level than usual, but traditional Midsummer flood from mountains would lift the water level to little higher than the median for the rest of the season. Still we need to remember, that weathers during summer (temps, precipitation etc.) affects a lot in our fishing condition, so we'll see what the season brings!
News from the sea and Swedish Baltic rivers are good too. Trolling boats have caught good numbers of fish and in many Swedish rivers the salmon season is already up and running. In southern Swedish rivers like Mörrum and Em the May fishing for salmon has been better than in years. In rivers of Bothnian Bay season has begun also with a lot of promise. From Byske and Kalixälven fly-fishermen have caught several May salmon and especially in Kalixälven (running next to River Tornio) it's quite uncommon. Big and fresh salmon are running and only few days until fishing begins in our river too!
In Naamisuvanto we have been preparing boats, accommodation and the fishing gear for the season. Boats are in good shape now after tarring and painting of them, accommodation and fishing gear still need some preparing but we have those few days and then the action begins… 😉
-Naamisuvanto-