August has arrive and almost reached halfway line. There is still some two and half Months left the salmon season 2019! The end of July was tricky, because heat wave entered the river valley for around week. The air temps were over 30 degrees in many days and water level dropped and water temperatures increased all the way to 21 degrees at the top. After cold June and early July the change in weather conditions were dramatic and as quickly as the temperatures rise, they also dropped, when the Month changes and August began. The water temperatures dropped quickly within few days around 15 degrees and day temps have been varying between 10-20 degrees. Days have been dry though and water level has dropped very low and has reached actually even lower level than during heated 2018 season.
Fishing has been very good the last 1,5 weeks with good numbers of fresh grilse running. Holding bigger fish have been active too and there have been few nice battles with angry cock fish. We had pretty busy last week with two company groups from Finland and nice group from Italy. There were also few other guests from southern Finland. Within guests there many beginners in salmon fishing and they experienced happy moments, when Domenico, Francesco, Ilkka, Tommi and Hannu were all able to land their first ever salmon! The total number of landed salmon last week were 9 fish. Next two weeks will be fully booked with fishing in our home pool and also in Kengtis Bruk's boat pool. It seems water level is starting rise. Sunday evening was very rainy and more rains have been predicted in forecast. With already 60 000 salmon in the river and with nice grilse run it will be exciting last half of August!
We have been testing new lake water during early August too… It is looking promising! 😉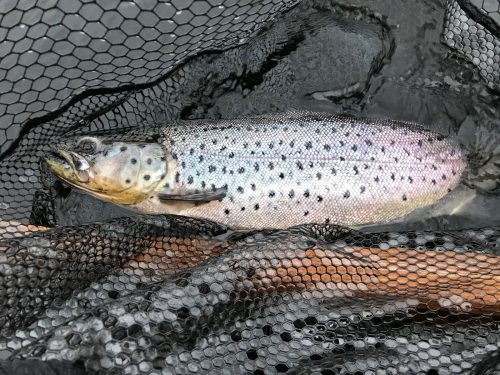 Tight lines for all!
-Naamisuvanto-