The salmon run finally popped up after the Midsummer and last week there were big number of fish passing by the Kattilakoski rapids and fish counter. Some 2000 – 3000 salmon has passed the counter daily and the peak of the annual run seems to be this year now, between the last week of June and first week of July. The weathers has still been tricky for fishing. After the enormous floods, there were 1,5 week of heat with temperatures between 25 – 30 degrees. Water temps raised up to 21 degrees at highest, but during the last weekend the weather cooled down and temperatures has dropped drastically since the beginning of this week. Water temperature is now 16 degrees and after heavy rains of Monday and Tuesday nights the water level has risen some 10 cm.
Salmon fishing was decent last week, despite the warm water temperature. 5 salmon was guided to our guests and 3 were caught by guests themselves. The fishing picked up during the last week and good fishing continued on Monday with 2 beautiful chromes landed in the first eve of the week. Landed salmon have been mainly 2 sea winter fish and the biggest of the week were nice 3 sea winter fish guided by Sane during misty Sunday morning. 104 cm female gave a terrific thrill to guests who were beginners at the salmon river. These are happy moments for guests and guides as well! Colorful wobblers like green & yellow and black & orange have been working. Small Sunray has delivered in flies.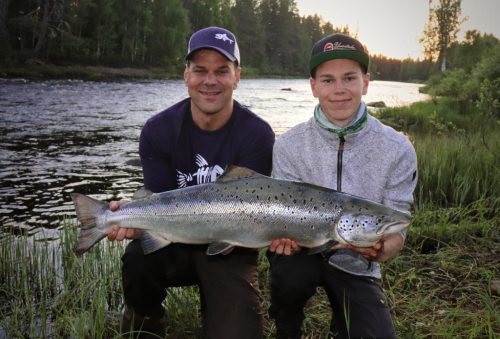 Conditions for salmon fishing are finally looking great! We are looking forward how the fishing will develop this week!
-Naamisuvanto-